CMM Optimal Accessories
for the PVC, WPC, Composite, Aluminum, Wood, & Steel Fence, Deck, & Rail Industry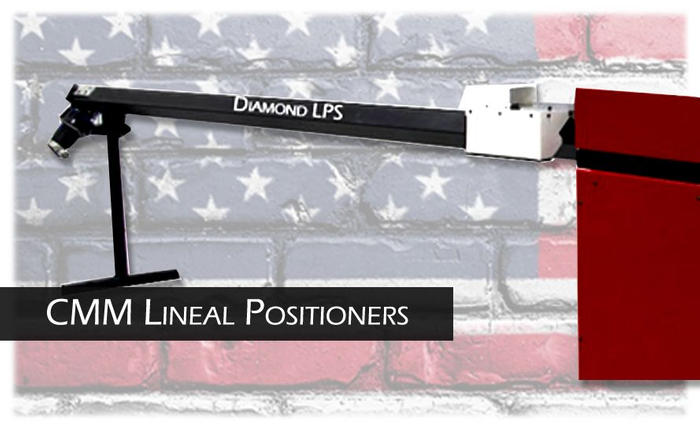 Lineal Positioners
CMM Diamond Lineal Positioner
FEATURES:
Industrial Positioning System for heavy industrial applications allows the operator the ability to simply enter a length and process the part.. Program custom lengths, create jobs, save jobs, and have no worries with unreliable tape measures. Runs on our Android Software.
Available in 6', 8', 10', 12', 14', & 16' Lengths (Longer lengths available upon request) Programmable CNC Lineal Positioner Performs as both a stop and pusher.
Android Operating System * Diamond LPS Custom Android Software * Closed Loop Servo Motor has an accuracy of +-.004" with speeds up to 960 IPM * Steel Reinforced Timing Belt * 38mm Width * Steel Arm with powder coated finish
Power Requirements: 120 VAC at 20 Amps
OPTIONAL FEATURES: Material support table with mounting brackets for DLPS. Custom framing to fit customer's existing chop saw, drill press, or other equipment. 5' Material Drop table (other lengths available). Custom Arm Material Clamp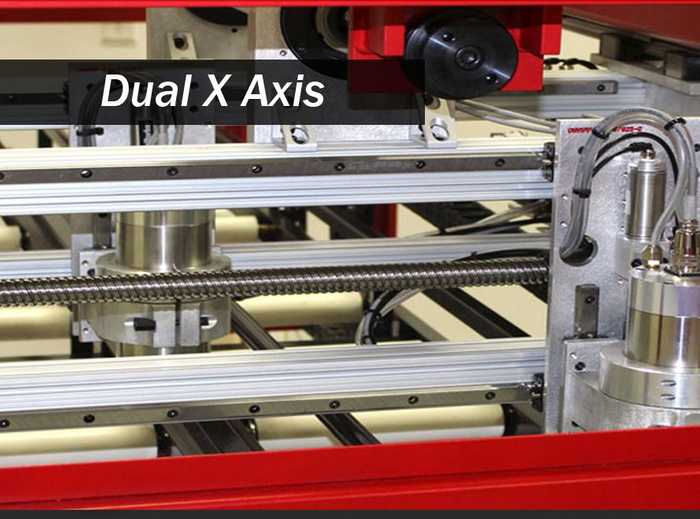 Dual X Axis
Dual X Axis is available on all CNC Routers to DOUBLE PRODUCTION!
FEATURES:
Additional X Axis to Double Production * MotionFORCE Software Upgrade
OPTIONAL FEATURES:
Automatic Stacker * Automatic Loader * Push Off Tables * Magazine Load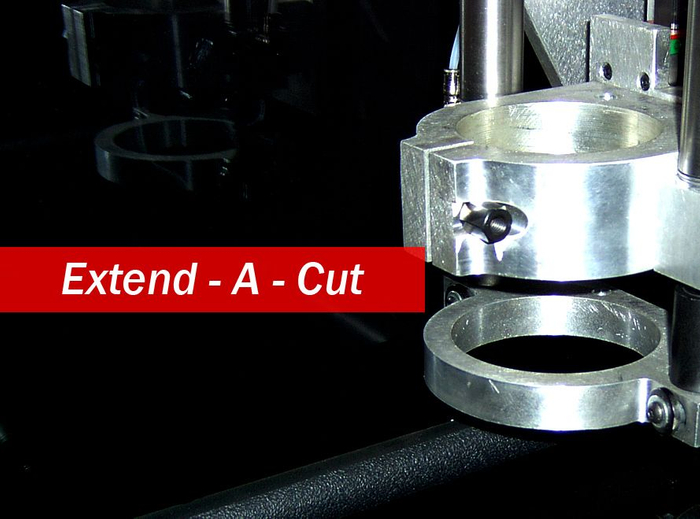 Extend-A-Cut
The CMM Extend – A – Cut Feature allows the operator to route a part longer than the existing router's Y-Axis. Simply create a program with the appropriate length of the part, place the part in the Material Bay, Clamp the Bay, the press the Cycle Start Button. The machine will automatically advance the material forward after the first 8 foot is finished routing. Ability to be installed on any existing machine.
- Removable Pneumatic Stop
- Top Clamp Router Attachment
- MC Software Upgrade
- Includes Pneumatic and Electrical Connections
Advantages:
- No Flipping Part End for End
- Route a 24' post on an 8' machine
- Eliminates the guess work
- Reduces scrap from ruined material
- Installs on any existing CMM Router